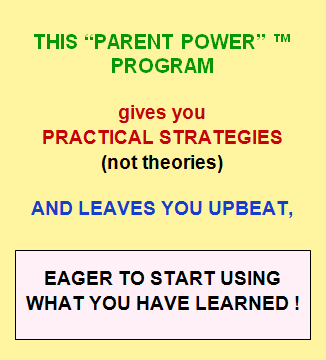 You can start your "Parent Power" - "Real-World Training" RIGHT NOW !
Your "Start Now" price is $47 (Normally $97)
Click this box to start your Training !
Your child will become LESS AUTISTIC
if you use these Parent-Power Techniques !
This training is for Juniors - for ages 0 to 9. (Older-age training to come)
What else do I get for my $97 ? (or for my $47, at the special 7-day price)
Also waiting for you in the Training Area,
alongside your 'Real World Training' Modules,
ARE
(1) My two favourite Mild-Autism Videos of all time
(that other people have made)
– I have not set these videos out just for you to passively look at,
but I also give you my detailed commentary on why these videos are Valuable for You.
ALSO
(2) Where to find my two favorite Visual Supports on the internet,
– these are great supports in helping your girl or boy understand and communicate.
AND
(3) The ten best Mild-Autism books I have read over the last 10 years
This "short list" of books will save you personal time and money.
You benefit by going straight to the books that I thought were the best to read.
FINALLY
(4) Our Research and Experiences re food allergies and special diets
I believe you will benefit greatly from our parental experiences in this area,
setting you in directions that will again save you time, money and needless distress !
Testimonials
"I thoroughly endorse "Parent-Power Pete's Training! His approach and methods have transformed my son from almost totally absorbed in Own World, to a balanced individual with "B" level mainstream school results, good friends and good times!"
(M.D.W.)
"There's no doubt that Pete's Programs work, and not just a bit, a LOT !!!"
(G.and R.C.)
"Hello Peter,
I would like to thank you again for the help you provided us so far. Our girl is getting better and better. She is using much more words and started to communicate with words like "hello" or "good morning" ( she is using them sometimes). She can understand better the world around her and she has a better repertoire of play (not just the books)."
(N.C.)
"Thanks Peter,
I was very impressed with the you tube videos and agreed with your thinking."
(J.A.)
Benefits for Parents too:
"Infact everytime u
explain this to me i know -my self- better…"
(N.M.H.)